14 January 2020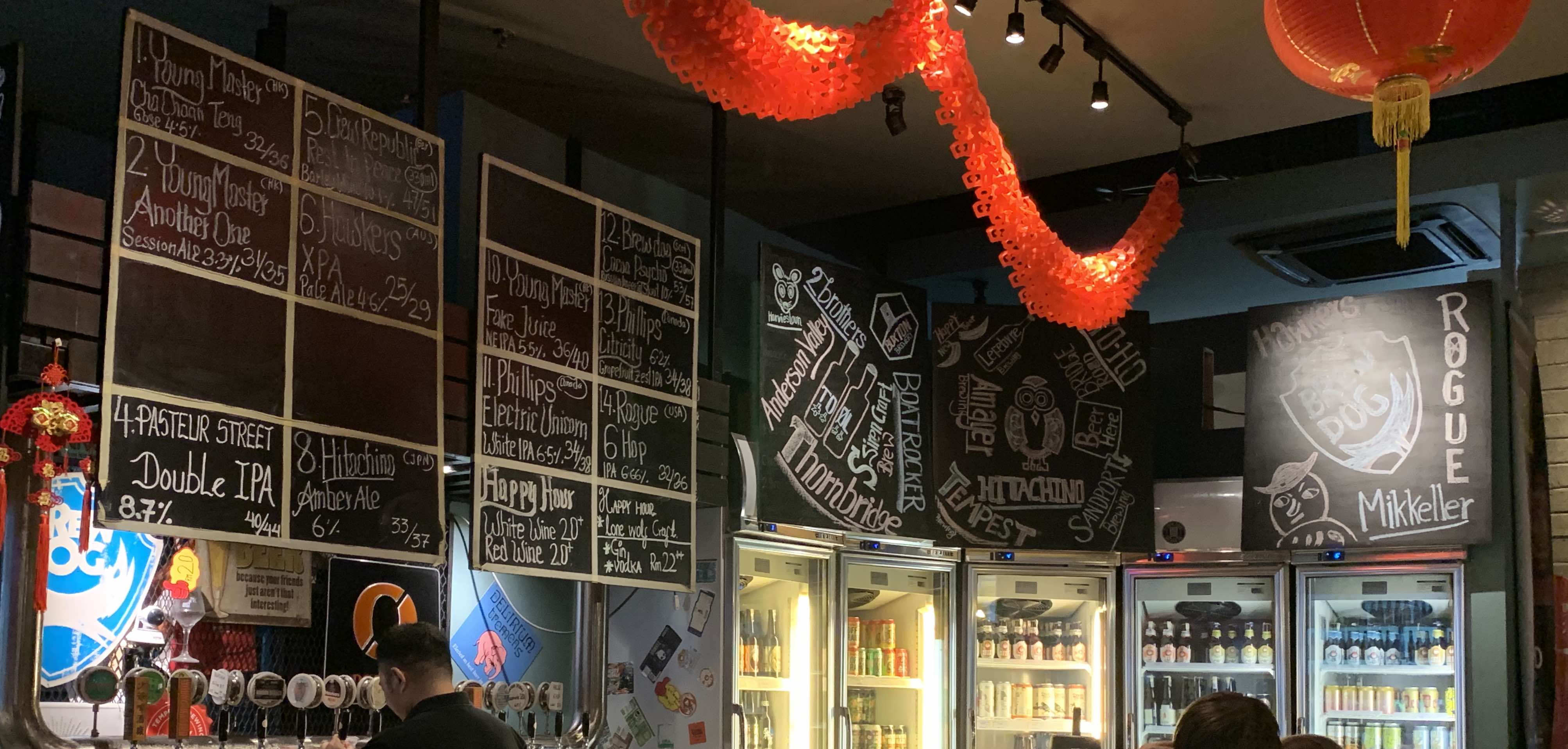 It's mid January, I'm in KL and I'm feeling a little guilty. For I have fallen behind. As I sup this small can of Guiness Foreign Extra Stout I'll make amends with a quick post to bring things up to date.
I'm just back in my room from an evening at Kuala Lumpur's Tap Beer (specifically the original Bukit Bintang Branch). I understand that this place has a connection with the founder of Hong Kong's Young Master Ales via this article. And their beers were certainly in evidence as the brew board shifted around through the evening.
I began with Young Master's Gose:
Cha Chaan Teng
Gose, 4.5%
There's a butteriness on the nose which surprises me. In the mouth the sourness hits immediately, but it is a mild sourness, also slightly mealy and dry. Body is light, and the taste is refreshing. The salt lick lives on the lips a few seconds after the swallow.
Next I upped the hops a touch
Hawkers XPA
Pale Ale, 4.6%
Malty and tropical on the nose. Light body and slightly sweet finish. Pineapple, mango, coconut flavours backed up by only a touch of bitterness.
This left me wanting some deeper hoppiness, so:
Pasteur Street Double IPA
DIPA, 8.?%
Pine, grass and gooseberries on the nose. Good head. Boozy, with big grassy and overripe tropical flavours - papaya and mango.
6 Hop IPA
IPA, 6.66%, Rogue
Classic big American West Coast IPA. Bitter, piney, citrus. Malt heavy with juts a bit much crystal for my palate.
Rest In Peace
Barley Wine, 10.1%, [Crew Republic](https://crewrepublic.de)
Raisins and preserved fruit with a woody, hessian note on the nose. Full mouthfeel with booze, coffee and flickers of liqueur as it goes down.
A change around on the beer board opened up the next refreshing move:
Contemporary
Pilsner, 4.5%, [Young Master](https://youngmasterales.com)
A welcome break. Fruity nose. Citrus and apples, medium body, but not much bitterness.
Arrogant Bastard
Strong Ale, 7.2%
My pallet did not need this hammering. But it did grow on me as I slowly went though the can. Bitter and grainy and deep. Too deep. My first time with this beer I've heard about many times.
What's missing here is local brews - but given the restrictive laws around brewing in Malyasia, expecting them would have been unrealistic. At least Kuala Lumpur did have craft ales (and a lager) to offer. I'm thankful for that - and also thankful to my long-time friend Andy who drank his way through the beer menu with me on this occassion. We finished the evening with a sour and fruity passion fruit wheat beer, courtesy once more of Young Master.
So, SeaBrew 2019 in Bangkok? It's now several months past and almost too late for comment. But it was an amazing conference and one of the highlights of the year for me. Technical and panel sessions were enjoyable and informative, but most compelling was the energy and friendliness of the many brewers from across Asia and further afield I had the fortune to meet. It was a good moment for Thailand's craft brewing scene too, both a reward for the work they've put in over the past few years, and galvanizing for the future. Really hope I can make it to this year's event in Taiwan.